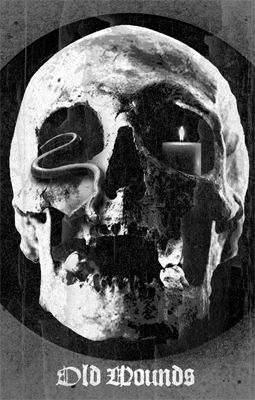 OLD WOUNDS, Terror Eyes  (2011, RDG)
The skull:
Assuming this skull is actual size, the serpent is immediately rendered unthreatening since it's the size of a baby garden snake, and the candle would be kinda tiny too, stuck in the eye like that. Probably a cinnamon-scented joint straight outta Pier One. You're gonna have to put a lot more terror into those eyes to freak us out here at BDS, and doubtless other curators/lovers of the skull will be left unimpressed. This ain't nothin'.
The music:
Terror Eyes = Terrorize, eh? Clever. As hell. This is a 7" and it only sounds metal if you're not very familiar with metal. The metal-or-not distinction is only relevant here because Big Dumb Skulls reviews metal albums with skulls on the cover. No punk, no rockabilly, no alt.country, or any other genre with an affection for the skull. But this is close enough to the kind of hipster Brooklyn-core pseudo-metal that's all the rage these days, and even sounds like something Relapse might sign. Kind of Unsane meets Botch meets Trap Them, but in much more generic form. It churns and spits and rages appropriately, but that's about all it does. There's no underlying, existential purpose behind these five short songs, nothing that grabs you by the throat and screams anything important at you. It's too dry and one-dimensional. Probably hugely inspirational to a young kid with very few reference points for what extreme music is like, but I'd be surprised if many old vets would find much of interest here.
— Friar Wagner